Our social mixed-reality applications add value to your products and services.
VR4more People
Our applications facilitate direct collaboration and social exchange. Groups of local and remote users meet in shared interaction spaces – for the presentation and discussion of 3D objects and processes as well as for their creation and evaluation.
VR4more People refers to:
collocated and remote social mixed reality as well as
group-to-group immersive telepresence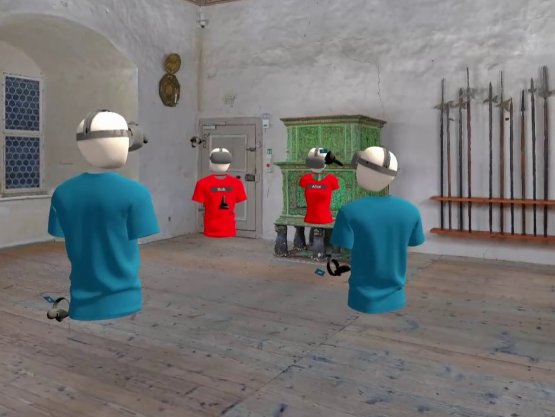 VR4more Data
Our systems live up to your data quality. No matter how large, no matter how detailed, we offer data fidelity at interactive framerates. Our modern data streaming and memory management solutions provide for smooth experiences and accurate data evaluation.
VR4more Data supports the following data types:
Large 3D point clouds,
Large triangle models with large textures, as well as
Volumetric models and video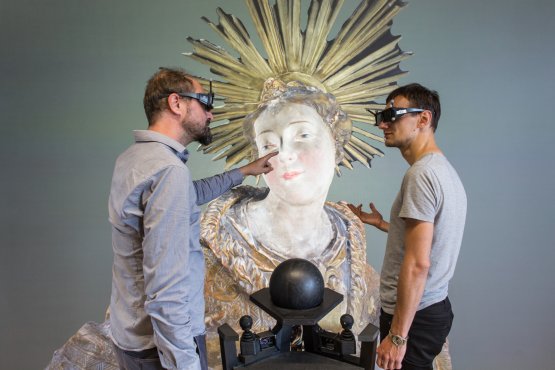 3D model of Saint Kunigunde at St. Michael, Bamberg is courtesy of Arctron 3D GmbH
VR4more Skills
Our collaborative VR platform is your perfect training environment. Virtual reality enables action-based learning in realistic training environments without risk and with low resource consumption. Social VR enables learning from each other through observation, imitation and mutual guidance. Recordings of exemplary action sequences can be replayed or even further adapted independent of time and place.
VR4more Skills refers to:
Collaborative training applications as well as
Evaluation methods and formal studies
VR4more Insight
Information visualization applied to high-resolution 3D models helps to convey and communicate complex interrelations. The contextualized information can be directly discussed and evaluated in our collaborative platform. Cooperative annotation tools facilitate the acquisition and retrieval of the gained knowledge.
VR4more Insight refers to:
Cooperative 3D analysis of geometries and processes,
Embedded information visualization,
Database integration, as well as
Cooperative tools for annotations and information retrieval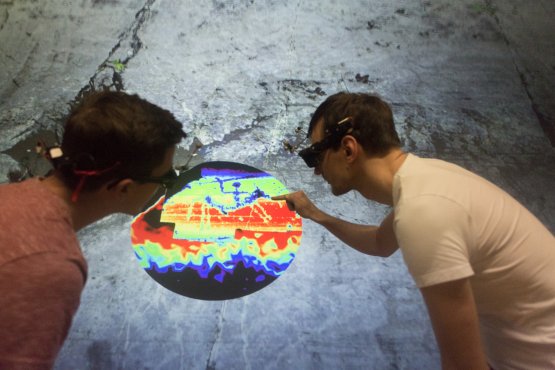 VR4more Cooperation
Our applications support expressive user input through bimanual, multimodal, and social cooperation. We believe in the evolution of user interfaces from sequential input dialogs to synergistic, cooperative action. This also means a paradigm shift from social media for communication and information exchange to social user interfaces for productivity and mutual understanding.
VR4more Cooperation includes:
Bimanual and multimodal interfaces as well as
Multi-user cooperation